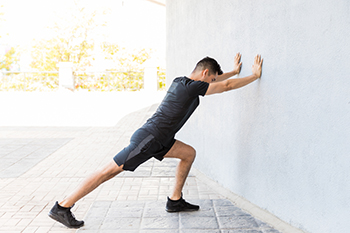 Mobility in the ankle joint is vital for everyday activities such as walking, climbing stairs, and transitioning between sitting and standing. Reduced ankle mobility can stem from various factors, with tight calf muscles being a primary contributor. The calf muscle, situated at the back of the shin, plays an essential role in the ability to flex and extend the foot. When this calf muscle becomes tight, it can affect overall ankle movement. In addition, scar tissue at the front of the ankle can also lead to anterior ankle impingement. It may cause discomfort and restrict movement, particularly during activities like squats. To counteract reduced ankle mobility, incorporating targeted exercises into your routine is important. One such effective exercise focuses on stretching the calf muscles, including the gastrocnemius. This wall stretch involves standing upright with one leg straight behind you and the other in front. While keeping the heel of your hindfoot on the floor, lean against the wall. Maintain this position until you feel a light pull on the back of your leg, holding for 45 seconds. Repeat this stretch several times daily to alleviate tightness and enhance ankle mobility. Whether you are an athlete aiming to optimize performance or simply want relief from ankle discomfort, it is suggested that you make an appointment with a podiatrist who can evaluate the situation and present you with appropriate treatment options. 
Exercising your feet regularly with the proper foot wear is a great way to prevent injuries and build strength. If you have any concerns about your feet, contact Dr. Richard T. Bauer from Summit Foot & Ankle. Our doctor can provide the care you need to keep you pain-free and on your feet.
Exercise for Your Feet
Exercise for your feet can help you gain strength, mobility and flexibility in your feet. They say that strengthening your feet can be just as rewarding as strengthening another part of the body. Your feet are very important, and we often forget about them in our daily tasks. But it is because of our feet that are we able to get going and do what we need to. For those of us fortunate enough to not have any foot problems, it is an important gesture to take care of them to ensure good health in the long run.

Some foot health exercises can include ankle pumps, tip-toeing, toe rises, lifting off the floor doing reps and sets, and flexing the toes. It is best to speak with Our doctor to determine an appropriate regimen for your needs. Everyone's needs and bodies are different, and the activities required to maintain strength in the feet vary from individual to individual. 
Once you get into a routine of doing regular exercise, you may notice a difference in your feet and how strong they may become.
If you have any questions please feel free to contact our office located in Latham, NY . We offer the newest diagnostic and treatment technologies for all your foot and ankle needs.
Read more about Exercise for Your Feet